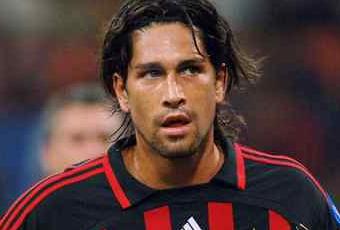 Before Serie A went under way this season, Milan was in a problematic situation worth of Manchester City, they had too many forwards. Five forwards to be exact were on the Red and Black payroll. Ronaldinho, Alexandre Pato, Marco Borriello, and newly signed Robinho, and Zlatan Ibrahimovic (on loan from Barcelona) were all vying for a position in the front line.
From the beginning it looked like Robinho and Ibra were going to be the one and two forwards on the pitch. Borriello, despite starting for Milan in the season opener, was later dished out to AS Roma for yet another year on loan.
Borriello began his youth career with Milan in the late 90s and later graduated to the pros in 2000; but with a failure to establish himself behind a stacked team, Borriello was shipped out to Triestina in Italy's Serie C2.
Soon then, the striker sent to Treviso, in Serie C1 where in 27 games played he scored 10 goals. A, now interested Milan, recalled him and in 2002 Borriello made his debut at the San Siro with three appearances for the club before being dished out to Empoli.
For the next three years, Marco was recalled to Milan, played a few games, then sent back out on loan again; in 2004 to Reggina, Sampdoria took him in 2005, and played the second half of the season back at Treviso.
In the summer of 2006, Milan recalled Borriello. It appeared he was going to be with team for the whole season but in late December of that year, he tested positive for glucocorticosteroid and was suspended for much of the remaining season.
The striker nobody wanted tore it up in 2007 where he knocked in 19 goals in 35 appearances for newly promoted Genoa after Milan sold him. Borriello finished 3rd in the Golden Boot race behind Alessandro Del Pireo and David Trezeguet.
In 2008 Borriello made his return to Milan and was employed with him for the whole year, but due to injury, most of the season was missed. However, in the 2009 season, Borriello blasted 14 goals in 29 Serie A games. It looked like Borriello was here to stay for Milan, but once on loan, always on loan.
Now, the striker plays in the capital and appears to love every single minute. Borriello has played in 22 games for Roma, and has scored 12 times in all leagues. Including games in the Champions League group stage in which they advanced. Marco even scored the game winning goal against Milan in December.
Milan should be regretting letting Borriello go for the season. He is a team player and always gives it his all; and most importantly, he is a goal scorer. Ibra and Robinho are scorers but are two huge egos Milan, or anyone, can do without.