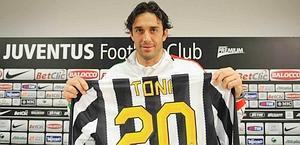 After the sad news that Fabio Quagliarella will be out for the rest of the season, Juventus got a replacement in record time. It's Luca Toni who will be replacing Quagliarella (out for 4-6 months with a torn cruciate knee ligament), the World Cup winner leaving Genoa to sign a one and a half year contract with the bianconeri. It was a free transfer from Genoa to Juventus, and Toni makes sure to thank Enrico Preziosi for letting him join Juventus.
"I'm extremely happy, it's a dream to wear this jersey... I thank Preziosi for this opportunity, at Genoa there were some problems, the marriage [between the club and the player] didn't end well."
Toni continued talking about the transfer,
I didn't hesitate in joining Juventus, it is an adventure which fascinates me. I know the group, I know that every player wants to win. I believe... The Scudetto? We will try to win all the games and then we will see what happens, there's a lot of will to return to the win."
While Toni is 33 years-old, the tall striker was a useful player for Roma last season in their attempts to win the Serie A. Juventus's next match is against Napoli at the San Paolo, a tough match after their 4-1 defeat to Parma at home. Quagliarella had to be substituted just three minutes into the match after injuring his knee, and he was replaced with Amauri. But the Italian/Brazilian had another dry night, goalless as his side suffered Giovinco and Palladino's wrath.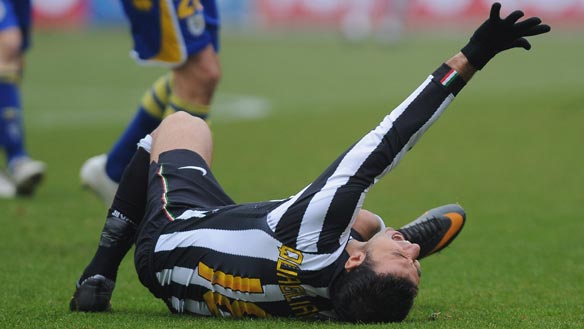 Toni says he is ready to play, and after seeing what Amauri provided up front (little to nothing), Delneri could try and spark the team this weekend with his new signing. Here's what Toni said regarding his possibility to play this weekend, and what he hopes to do at Juventus.
"I played 90 minutes yesterday with Genoa, I'm ready to play against Napoli, but Delneri will decide. I did my best to come to Turin, in 2007 I was a step away from Juventus but then I went to Germany. To play here I turned down offers which were economically more beneficial, I've cut my wages because I want to show my value here"

"I'm ready to play at Naples. I will find myself well, I'm a man of the penalty box and I can count on two strong wingers. I chose the number 20 even if I like 9 and 30, they were already taken."
While this is a big move in the Serie A for this January transfer window, there's a possibility of more to come from Juventus. It seems like they aren't happy with just Luca Toni, especially after seeing the poor display of Amauri and Del Piero. Marotta didn't say yes or no to whether Juventus will try and find a more similar forward to Quagliarella in hopes of replacing him.
I'm unsure about how Toni will do. While he won't have a major part in Delneri's plans, he will be a a useful player who will provide some goals. Krasic's excellent service will finally be put to some use with Luca Toni often being a commanding presence in the box.
How do you think Toni will do at Juventus? A good or a bad signing for the bianconeri? Share your comments below!