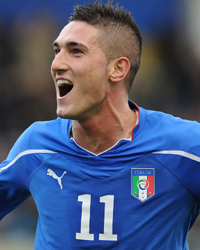 While one of the biggest moves of the January transfer window happened recently, with Toni going to Juventus, there have been plenty of other, quieter moves which have gone unmentioned. Mostly they are young, aspiring Italians joining clubs on loan so that they can get some playing time to improve. Federico Macheda from Manchester United to Sampdoria is probably the biggest name, but there's also Stefano Okaka who joined Bari, Davide Lanzafame who joined Brescia, and Palladino who joined Parma.
Having recently completed his loan deal from Manchester United to Sampdoria, Federico Macheda could already play tomorrow in Sampdoria's match against Roma. Mimmo Di Carlo has chosen Macheda as part of the squad, and the young Italian might even get in the starting eleven. It depends on whether Giampaolo Pazzini, who has been ill, will be able to play or not. Whether or not he starts, Macheda should get some playing time, and I really want to see how the 19 year-old does in the Serie A.
So far this season Macheda had seven appearances in the English Premier League, scoring only one goal. It's only because of an in-form Berbatov and the energetic Javier Hernandez that Macheda hasn't played much, and his return to the Serie A is a smart one. Macheda is tall, technically gifted, and intelligent with his runs, so if Di Carlo can use him properly we should see some good things from him.
There's another tall Italian forward who will be making an impact this season. Stefano Okaka joined Bari recently, and he played in Bari's 1-0 win against Lecce, scoring the only goal of the match. It's certainly a great debut with the Galletti, and it looks like he will be in the starting eleven tomorrow when Bari play Bologna. Okaka could look to Marco Di Vaio as an example of a goalscoring forward, and model himself on the Bologna captain. Okaka has the pace and strength needed to succeed, he just needs to implement it properly around the goal.
These January transfer moves aren't all of successful players, Davide Lanzafame has been overshadowed this first half of the season at Juventus. While in the preseason he had a big part to play in friendlies, the arrivals of Krasic and Pepe ultimately pushed him out of sight of any playing time. I really like Lanzafame, and I expected big things to come from him this season. Hopefully he will deliver at Brescia, because an Italian with his talent should be playing every weekend.
This January transfer window we also saw some intricate dealings between Parma and Genoa. Parma received Palladino (who scored against Juventus in his first appearance for Parma) on loan. And then the two clubs basically traded Francesco Modesto and Luca Antonelli, with a half share of Alberto Paloschi also given to Genoa, where Paloschi will be playing for the rest of this season. So for Antonelli and half of Paloschi, Genoa gave Parma all of Modesto, half of Palladino, and seven million Euros. Only are transfers in the Serie A this complicated.
The upcoming matches tomorrow will be exciting, with many young (and some old) Italians with a chance to really make themselves known. What are your thoughts on these transfers? What do you think will happen tomorrow? Share your comments below!