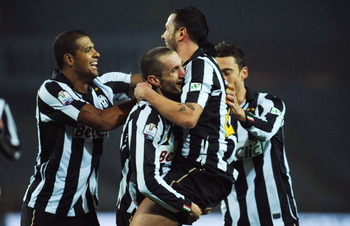 This upcoming weekend gives Juventus a great chance to bounce back from their bad run of defeats. Having only taken one point in nine the past three matches in the Serie A, Juventus need to pick themselves up if they want a chance at getting in a Champions League place by the end of the season.
Things haven't been easy for Luigi Delneri at Juventus. He has tried his best to impose a sense of order on the club, with a rigid 4-4-2 which alters itself only when players are sent off (like Felipe Melo against Parma), or get injured (like Fabio Quagliarella who will be out for the rest of the season).
The latest mishap which has happened is Luca Toni's injury. Toni was bought just days ago to help score some more goals, but in the Coppa Italia match against Catania (which Juventus won 2-0), he had to be carried off the field. The striker has injured his knee (a very delicate part of a footballer's body), and it could take 25-30 days to recover. Now the only partially-healthy forward left for Delneri to use is Amauri, and the Italian-Brazilian has yet to score in the Serie A this season.
Del Piero is also having trouble, and it is doubtful he will be able to play against Bari. So in order to keep his classic 4-4-2 alive, Delneri could decide to put Pepe as a forward. It's a temporary solution, and the club is quite keen on buying another forward during the January transfer market.
Right now it seems like the club has already agreed almost everything with Udinese's Floro Flores. While the deal still needs to be signed, supposedly it has been worked out that Floro Flores will join Juventus for the rest of the season on loan. It's a good choice as a replacement for Fabio Quagliarella, the two have many similar qualities.
Juventus fans will also be glad that their legendary goalkeeper Gianluigi Buffon made a good return in the Coppa Italia match against Catania. He pulled off a couple of diving saves to keep a clean sheet, and he will be invaluable against Bari. Although Bari don't score many goals (only 12 so far this season), Juventus concede quite a few (24 so far this season). If Buffon can manage to stop the Galletti from scoring, and the rest of the team can help Amauri get his first goal, Juventus could get what should be an easy win against Bari.
What do you think about this match? Will Juventus have any trouble against last-placed Bari? Share your comments about this match and any others this weekend below!