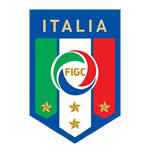 VS.

The 5-time World Champion (and official national team of the Metellus Family) Brazil announced their roster for the highly anticipated Feb. 10th friendly vs. 4-time and current World Champion, Italy. Its a roster that was surprising due to its omissions and additions.
The most glaring omission is the red-hot Juventus striker, Amauri who has carried Juve all season after his move from Palermo.

His omission from the squad could push him to play for Italy. The Brazilian born goal poacher has Italian citizenship and Marcelo Lippi could use a hungry striker to spice up the Azzurri attack. It looks like Dunga chose Adriano of Inter Milan instead of Amauri.
Another surprise was the addition of Fiorentina midfielder, Felipe Melo.

The central midfielder got his 1st call up and looks to be the successor to players like Emerson and Gilberto Silva. Dunga regular, Diego will not appear for the Seleção and it appears that Ronaldinho's inclusion came at the expense of Diego.
No surprise however that Dunga pilaged the Italian Serie A for this friendly against Italy. 11 of the 22 players called to the team draw checks from Serie A teams with AC Milan having 4, Inter & Roma with 3 each and Felipe Melo representing Fiorentina. Here is the complete list of players for the February 10th friendly vs. Italy.
Goalkeepers: Julio Cesar (Inter Milan), Doni (AS Roma)
Defenders: Maicon (Inter Milan), Daniel Alves (FC Barcelona), Adriano Correa (Sevilla), Marcelo (Real Madrid), Lucio (Bayern Munich), Luisao (Benfica), Juan (AS Roma), Thiago Silva (AC Milan)
Midfielders: Elano (Manchester City), Gilberto Silva (Panathinaikos), Josue (Wolfsburg), Anderson (Manchester United), Felipe Melo (Fiorentina), Julio Baptista (AS Roma), Kaka (AC Milan), Ronaldinho (AC Milan)
Forwards: Luis Fabiano (Sevilla), Alexandre Pato (AC Milan), Robinho (Manchester City), Adriano (Inter Milan)
According to the official website of the Italian National Team, figc.it, Marcello Lippi will announce his roster on February 7th. The match will be played in London at Arsenal's Emirates Stadium.