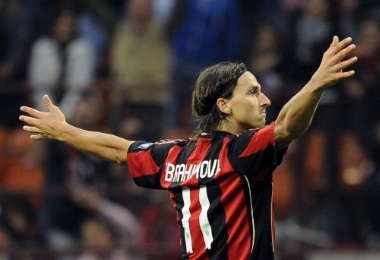 The importance of Swedish international Zlatan Ibrahimovic to AC Milan goes beyond the simple statistics - 6 total matches for AC Milan, five goals.  On a team full of high-profile talent and scoring ability, Ibra has stood out early in the season as the player who has carried Milan offensively and helped them remain in the hunt for both the Champions League and Serie A titles.
Yesterday is a perfect example of his value to the club.  Playing in the hostile Amsterdam Arena and already down a goal, Ibrahimovic made his former club pay.  Off a good pass by Seedorf into the box, he used his height to collect the ball off his chest and fire home a strike to tie the game at one.  If you watch the highlight, the goal was not an easy one but he shows incredible ability to control the ball before putting it in the back of the net.  He almost assisted on the go-ahead goal but Kevin-Prince Boateng was denied on an amazing save by Maarten Stekelenburg late in the second half.  In the end, Ibrahimovic haunted his own club and gave Milan a much needed drawn, a result that should help them advance in the competition.
But should any Milan fan be surprised by the outcome?  Since his first match for Milan on September 11, he has become the fulcrum of the Milan attack.  All told, he has scored the goal to win or tie a match four times:
Both goals in the 2-0 home win against Auxerre
66' goal in the 1-1 Lazio draw (9/22)
The only goal in a 1-0 versus Genoa (9/25)
Yesterday's goal to draw against Ajax
With Alexandre Pato returning soon, Ibrahimovic will have additional help on offense, especially if Ronaldinho is able to round back into playing shape.  But for now, let's acknowledge that to this point Ibrahimovic has been by far the best pickup in the offseason and may be the reason AC Milan is succeeding so far in Europe and Italy.