Finally some pos­i­tive news for Serie A and Ital­ian foot­ball in gen­eral, this mid­week, while some sides played in the Coppa Italia, Inter Milan, AC Milan, and Roma played and won in the Cham­pi­ons League. It was the penul­ti­mate match­day of the group stages, and although Roma haven't math­e­mat­i­cally qual­i­fied yet, AC Milan have math­e­mat­i­cally qual­i­fied in sec­ond place (behind Jose Mourinho's Real Madrid), and Inter Milan have math­e­mat­i­cally qual­i­fied, and they have a chance to fight for first place in the group with Tot­ten­ham Hot­spur. All we can hope for now is that Roma man­age to qual­ify for the knock­out round, Inter qual­ify in first place, and that the Ital­ian teams in the Europa League do just as well.
Roma defeated Bay­ern Munich at the Sta­dio Olimpico 3–2, in a fan­tas­tic come­back. The gial­lorossi went two down after some defen­sive mis­takes, allow­ing Gomez to net a dou­ble in the first half, but they picked it up in the sec­ond half. Bor­riello clin­i­cally fin­ished from the ground to give Roma some hope, and then De Rossi net­ted a goal to tie up the score at 2–2. Then in the 84th minute Roma were awarded a penalty, and the leg­endary cap­tain Francesco stepped up and put it barely past Kraft's fin­ger­tips, for an epic winner.
But Ranieri's side hasn't qual­i­fied yet, next match­day they'll travel to Roma­nia and face CFR Cluj while Bay­ern Munich faces FC Basel at home. All that Roma need to do to qual­ify is either get a draw or a win against Cluj, and that way they've math­e­mat­i­cally qual­i­fied along with Bay­ern to the knock­out rounds of the Cham­pi­ons League.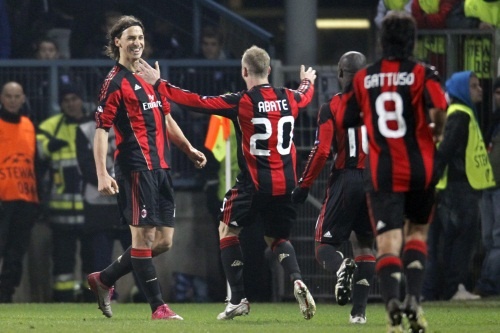 AC Milan on the other hand have math­e­mat­i­cally qual­i­fied after their 2–0 win away against Aux­erre. Zla­tan Ibrahi­movic who pro­vided another won­der­ful goal, a first time rocket which flew into the back of the French side's net. Ronald­inho scored the sec­ond in the final min­utes of the match, the Brazil­ian waltzed through the penalty box before he finally slipped a curl­ing ball onto the far post and in.
With this win AC Milan have qual­i­fied for the next round, and the result of their next fix­ture against Ajax doesn't really mat­ter. It's just a shame that Allegri's side was unable to chal­lenge Real Madrid for first place in the group, but as long as they do well in the knock­out stages, I'm sure rossoneri fans won't mind that much.
The match which took place today was at the San Siro, Inter Milan vs. Twente. It ended 1–0 for Rafa Benitez's side which finally seems to have played some decent attack­ing foot­ball. Inter still had to play a rel­a­tively weak­ened side due to the injuries which have been plagu­ing the side for quite some time now, but they pressed Twente high up the field and cre­ated many oppor­tu­ni­ties to score. It was Este­ban Cam­bi­asso who scored the goal, Snei­jder had a free kick deflected, and the ball fell per­fectly for the Argen­tine to vol­ley into the back of the net. This per­for­mance cer­tainly showed signs of revival from a side which looked life­less these past few weeks in the Serie A. We'll just have to see if Ben­itez can con­tinue to get this moti­va­tion from his play­ers this week­end against Parma.
Right now Inter Milan and Tot­ten­ham are tied at the top of the group with 10 points, and it's the Eng­lish side which is ahead with a goal dif­fer­ence of +7, while Inter's is just +4. Both Inter and Tot­ten­ham are trav­el­ling away next Cham­pi­ons League match­day, Inter will face Werder Bre­men while Tot­ten­ham face Twente, and it seems like Inter have an eas­ier match to win against the Ger­man team which only has two points and is at the bot­tom of the group table. So can Ben­itez inspire his men again enough to get a win, and hope­fully steal the first place from Tot­ten­ham? I don't think so, and in my opin­ion Inter will fin­ish sec­ond, but make sure to share your thoughts by com­ment­ing below!
A great dis­play from all three Ital­ian sides, and hope­fully this sea­son not only will we have three teams in the knock­out stages, but maybe more than just one of them will progress! What are your thoughts regard­ing the Cham­pi­ons League games? Com­ment below!