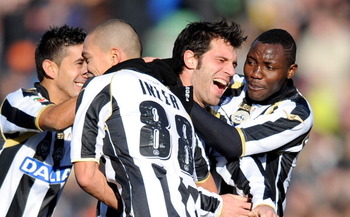 Alexis Sanchez Deal to Barca Finally Done?
It appears the dismantling of the best Udinese side in recent memory continues, as star Chilean winger Alexis Sanchez appears to be finally off to Barcelona.  Despite the fact that Udinese earned a Champions League spot this season, it is hard to blame the club for this sale.  When the Catalonian siren starts singing, it is hard for players to resist.
The key for Udinese supporters is to see what the club does with the funds they have acquired from the sale of Sanchez, as well as from the sales of Gokhan Inhler and Cristian Zapata.  Reports suggest the three players have earned Udinese somewhere in the range of 50 million euros and they have plenty of time to reinvest those funds into a team that can compete in Europe.
Two Arriving, Two Departing at Juventus?
Earlier this week, we discussed the many rumors surrounding Juventus, as the club continues an ambitious plan to get back to the top of Serie A.  While nothing official has been announced by the club, a few players appear closer to a move.
Reports today suggest the Old Lady and Bayer Leverkusen have agreed to a transfer fee for midfielder Arturo Vidal.  The Chilean international's arrival at the club seems to also mean the departure of Felipe Melo, who is telling whoever will listen that he has agreed to a lucrative offer from another European club.
Meanwhile, it looks more and more likely Giuseppe Rossi will complete his move to Turin this week.  The New Jersey native has been left out of the Villareal team for their coming friendlies, fueling speculation an announcement is on its way.
Finally, yesterday the Bianconeri terminated the contract of Portugese midfielder Tiago Mendes.  The former Chelsea player, who never made much of a mark at Juventus, has wasted little time in the open market and has already signed a contract with Atletico Madrid.
Is Tevez an Inter Target Again?
I, for one, am about at the end of my patience with the Carlos Tevez transfer saga.  But considering it once again seems Italy might be the most likely destination, I guess I will tolerate it for a little while longer.
Yesterday the potential transfer of Tevez to Brazilian club Corinthians fell apart and now speculation turns back to Inter Milan.  The players has said all along that he wants to play closer to his children, who live in Argentina.  While Milan certainly does not fit that description, Manchester City supporters and officials have to be growing as tired of this as I have, and must praying for the Nerazzurri make a bid.