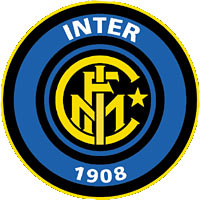 VS.
This Sunday's Derby della Madonnina will be the 270th meeting between these two legendary clubs.  Once again at stake is top of the table positioning.  Inter sits in 1st place on 53 points while AC Milan is in 3rd place on 45 points and while the result will not move Inter from 1st place the winner will gain big momentum in the chase for the Scudetto.  Four story lines permeate Sunday's match:

#1 - Paolo Maldini's Last Derby

The Rossoneri icon will play in his last Derby della Madonnina and undoubtedly will want to end his Milan career with a season sweep of his most bitter rivals.  With that mind, he will certainly play out of his mind and inspire his teammates to do the same.
#2 - No Kaka & No Gattuso

The heart of Milan's attack and the engine of Milan's midfield will both miss Sunday's match.  Gennaro Gattuso is still rehabbing his knee and Kaká is suppposed to be out with a bad foot although there are rumors that the Brazilian may make a courageous appearance.  It seems as if its a game time decision and a bit of gamesmanship on the part of Carlo Ancelotti.  Ronaldinho will take Kaká's place in the lineup, good fortune for Milan seeing as how Dinho scored the game winner in the Derby in September.
#3 - Effect of Beckham Saga

The Beckham Derby between AC Milan & L.A. Galaxy is being played in the boardroom but one has to wonder about the effect of the negotiations on David Beckham and effect of the distraction on the team.  Its easy to think that with such a big game on the horizon that the Beckham drama wouldn't factor into the mentalities of Milan players but the recent news that MLS & L.A. Galaxy did not agree to Milan's offers will certainly be on Beckham's mind and who knows what effect it will have on his performance.
#4 - Which Inter will show up?

Inter Milan is the best team in Italy but they don't always play that way.  At times on the bench, super coach Jose Mourinho looks completely dumbfounded and frustrated with his team.  Yet, they find a way to win.  It seems that Dejan Stankovic will be the key to Inter's attack.  If he's off it could be another clean sheet in favor of  Milan. Defensively, they'll be solid as they have only allowed 1 goal in their last 4 matches.  So are we going to see the Inter that demoralized Roma & Lecce or the Inter that was outplayed by Torino & Atalanta?  Mourinho will take a massive hit to his reign if he loses twice to Milan.
Its going to be an emotional and passionate match so turn off your cell phones and sex your lady real good before the game so she'll be asleep during the match.  Laser focus your attention to the television for the 270th Derby della Madonnina. Its going to be FYAH!!! If you are looking for a prediction. Here it is: Inter 2 - Milan 1.
Probable Lineups:
FC Internazionale Milano (4-3-1-2):
Goalkeeper: Julio Cesar
Defenders:  RB - Maicon, CB - Chivu & Samuel, LB - Santon
Midfielders:  RCM - Zanetti, CM - Cambiasso, LCM - Muntari
Forwards:  CF - Stankovic, ST - Ibrahimovic & Adriano
Associazione Calcio Milan (4-3-2-1):
Goalkeeper:  Abbiati
Defenders:  RB - Zambrotta, CB - Maldini & Kaladze, LB - Jankulovski
Midfielders:  RM - Beckham, CM - Pirlo, LM - Ambrosini
Forwards:  LF - Ronaldinho, RF - Seedorf, ST - Pato