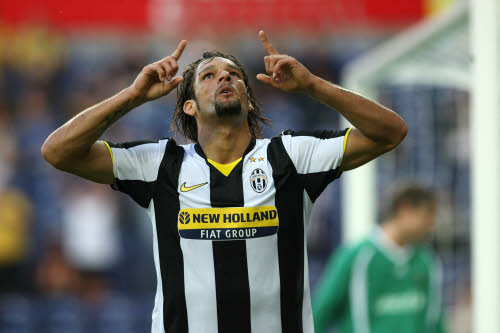 Juventus' goal poacher, Amauri finally received the call to play for A Seleção. Dunga called Amauri to the team for the friendly against Italy on February 10th after original call up Sevilla striker Luis Fabiano ruptured two ligaments in his left knee in the 2nd leg Copa del Rey quarterfinal match vs. Valencia. Amauri was called as a replacement to Fabiano, however it has yet to be seen if he will play for Brazil.
Juventus has the option to stop Amauri from appearing because the late call-up was after the FIFA deadline for selecting overseas players for the match. Both Corriere Dello Sport and Gazzetta Dello Sport suggest that the Italian Football Federation (FGIC) & Juventus could work together to stop Amauri from playing for Brazil so that Marcelo Lippi can incorporate the São Paulo born forward into future Azzurri sides. The ball is clearly in La Vecchia Signora's court.
Amauri, who's full name is Amauri Carvalho de Oliveira, has applied for Italian citizenship but is still waiting on his passport. His wife, Cynthia is close to gaining Italian citizenship which would qualify him automatically. Amauri's mother has weighed in on the matter. In a Gazzetta article, Janete Oliviera advised her son to play for Italy because Brazil has given him nothing and only called him because Luis Fabiano is injured. She states that her son always tells her that he wants to wear the Azzurri jersey because its the country that's given him everything.
The ex-Palermo player could still play for Italy if he reports to Brazil for the February 10th match. If he remains on the bench and doesn't step on the pitch for A Seleção, he could be an Azzurri player after his passport is obtained. Amauri has consistently said that it would be his dream to play for Brazil.