Serie A - Week 2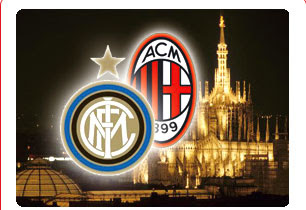 Milan vs. Inter
Could the Derby della Madonnina, the first big derby of the 09-10 season in any European league, live up to the hype? Inter came into the game favorites to win the scudetto after mostly adding to the squad that has won the Serie A four years running. AC Milan did not add much in the offseason, and suffered the huge losses of Carlo Ancelotti, Paolo Maldini and Kaka.
Milan got off to an expected start last week, winning at mid-table Siena. Inter were held to a tie at home by newly promoted Bari. On Saturday, Milan was the better side throughout the first half hour, and Inter looked out of sorts for a large portion of the beginning of the game. That would not last. Early on, Pato and Flamini seemed to have possession for a great deal of time and play off each other well in Milan's attack. Flamini even came in to protect his teammate shortly after Lucio's hard, clean tackle took down Pato, and brought down the Inter captain, earning a yellow card in the process.
Things were looking up for the rossoneri until Gattuso picked up an injury to his ankle about 20 minutes into the game. The nerrazurri started to take control of possession and impose their will on the game, and had an almost "Argentina v Serbia in the '06 World Cup"-like goal, stringing together eleven passes in a row before Thiago Motta placed a well taken shot past Storari for Inter's first goal.
Whatever knock Gattuso picked up sapped him of some of his pace, and in the 34th minute he lost Eto'o down the wing and resorted to bringing him down in the box to give Inter a penalty which Milito promptly buried for Inter's second goal.
Gattuso began to demand his way off the pitch in the 37th minute, and before Leonardo could make his move, Gattuso earned his second yellow with a harsh tackle on Wesley Sneijder. On his way off the pitch, Gattuso was yelling at someone on the sideline, and if it was Leonardo, it would be hard to blame him. It took entirely too long to get him off the pitch.
At the end of the first half Maicon and Milito had a nice give and go to set up Maicon for Inter's 3rd goal.
The second half began with Milan taking off Boriello and Flamini for Seedorf and Ambrosini. They would not be enough to salvage the game for a team playing a man down. There is not much else to say about this game. Watching the second half was almost a complete waste of time. Sure, Inter scored another goal on Stankovic's rocket shot, but could we really learn any more about these teams after a 3-0 first half where the losing team lost a vital cog to their midfield?
While Milan came out strong early in the game, they lost their legs early on giving way to the onslaught that is Inter. Overall, Maicon, Eto'o, Lucio, and especially Wesley Sneijder impressed for the black and blues.
No related posts.